For Immediate Release: April 1, 2014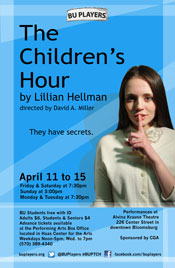 BLOOMSBURG— Playwright Lillian Hellman's "The Children's Hour" will be brought to the stage by the BU Players on Friday through Tuesday, April 11 to 15. Performances on Friday, Saturday, Monday and Tuesday will begin at 7:30 p.m. and Sunday's show will begin at 3 p.m., all in the Alvina Krause Theater, 226 Center St., Bloomsburg.
Tickets are free to BU students, $6 for adults and $4 for seniors and students from other schools.
Written by Hellman in 1934, "The Children's Hour" is set in an all-girls boarding school run by Karen Wright and Martha Dobie. A malicious youngster starts a rumor that the two women are having a lesbian affair and the rumor turns to scandal. As the young girl comes to understand the power she wields, she sticks by her story—true or not—and the women's lives are forever changed.
Directed by David A. Miller, assistant professor of theatre and starring Kellyanne Klause and Cassandra Gerhart, the play portrays incredibly timely themes despite its long history. "We live in a world of dangerous lies and half-truths that can and often do ruin lives. This is true of the world of 'The Children's Hour' in the 1930s and of our society today," said Miller.
Advanced tickets are available at the Haas Box Office at 570-389-4340. For more information about the BU Players, visit buplayers.org. #SenseOfCommunity
Bloomsburg University is one of 14 universities in the Pennsylvania State System of Higher Education. The university, celebrating 175 years of excellence in 2014, serves approximately 10,000 students, offering comprehensive programs of study in the colleges of Education, Business, Liberal Arts and Science and Technology.